You Stay Up to Date With the Factory Recommended Maintenance You Need, Shouldn't You Be Rewarded for It?
If you know us here at Hoffman Nissan, you know we always suggest adhering to the recommended maintenance schedule of your vehicle. To offer Hartford area drivers a little encouragement, we offer the Hoffman Advantage Program, which will actually reward you for keeping up with Factory Recommended Maintenance at regular mile-intervals. Not only will this leave you with a safer, well-maintained vehicle, but regular maintenance can also give you more trade-in value if you ever decide to sell. But those are just side effects from staying up to date with your maintenance-the Hoffman Advantage Program actually rewards Farmington and Avon, CT drivers for it!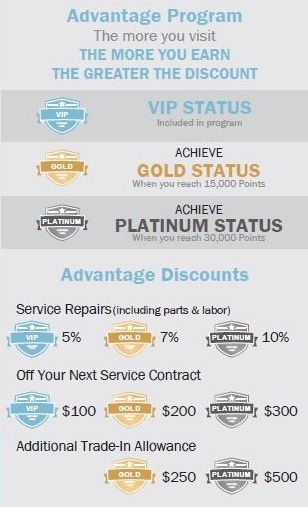 What Are the Hoffman Advantage Rewards?
When you initially enroll in the program, you'll get VIP Status, which immediately entitles you to 5% off Service Repairs and $100 off your next service contract. The more you visit us here in West Simsbury at the Hoffman Nissan Service Center, the more points you'll start to accrue.
As the points add up, you eventually move up a tier, to the Gold Status level with 15,000 points; Gold Status members get a better discount, at 7% off Service Repairs, $200 off your next service contract, and an additional $250 trade-in allowance. Now, there is a top-tier, but it takes 30,000 points to get there. Called Platinum Status membership, the rewards are pretty sweet: %10 off Service Repairs, $300 off your next service contract, and a whopping $500 extra toward your trade-in allowance!
For anyone who takes their vehicle maintenance seriously, why wouldn't you enroll in the Hoffman Advantage Factory Recommended Maintenance Program? It doesn't just keep your Nissan vehicle in tip-top shape, it keeps your wallet looking good, too! Let us reward your responsibility through the Hoffman Advantage program and faster than you know it, you'll be a Platinum Status member and reaping those sweet, sweet rewards.